www.RentRacine.com
www.RentRacine.com brings Racine county property for rent to the web in a user friendly way. This dynamic website listing service is available to all members to showcase their properties available for rent.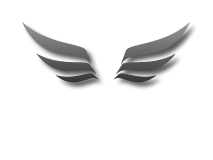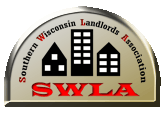 An Organization of Professional Property Owners.
Southern Wisconsin Landlords Association
Providing education and assistance to
Racine area real estate investors since 1988.
A member of The Wisconsin Apartment Association.
Our Next Meeting:
---
SWLA meetings are open to all landlords
---
Monthly every third Monday
6:00pm Social Time
Light meal
($5.00 per person)
6:30pm Meeting Time
Non Members First meeting FREE
$20 Fee for each subsequent meeting
Applied to membership fee when you join
---
SPECIAL MEETING

Wednesday, March 14, is Legislative Day. We need you to join us in Madison for a Fun Educational Day. PLEASE join us.

---
Regular Meetings
---
March 19
April 16
May 21
June 18
Meeting Location:
Harbor Lite Yacht Club
559 State Street
Racine, WI 53402
(262) 634-9280
EDUCATION
2018 WAA Spring Landlord Education and Trade Show

https://www.waaonline.org/conference/2018-waa-spring-landlord-education-day-trade-show
FREE Landlord/Crime Free Multi-Housing Rental Seminar
Presented in partnership by the Kenosha Police Department
& the Kenosha Landlord Association
To register for an upcoming seminar please contact
the Kenosha Police Department Crime Prevention Unit
watch@kenoshapolice.com
or
(262)-657-3937
"Free landlord training in Milwaukee"
(NOT the class by Tristan Pettit)
The award-winning Landlord Training Program operates out of the Department of Neighborhood Services (DNS) downtown location.Its goal is to teach landlords fundamental ways to keep illegal activity out of their property, and how to manage it if/when nuisance activity does appear. Considerable focus is also applied to operating according to the codes,laws and government directives that apply to rental properties as well as tried-and-true practices aimed at minimizing conflict and damage in area neighborhoods. This program was a runner-up for the Ford Foundation Harvard Kennedy School of Government Awards program, and a 1996 winner of the Innovations In Government award sponsored by the City of Milwaukee Mayor and Common Council.
The classes are FREE, and held on a regular basis throughout the year at various locations to include local libraries. They are also held on evenings and weekends to accommodate virtually anyone's schedule. The classes are generally either one (1) five-hour session in one day, or two (2) 2.5-hour sessions over two evenings. Attendees get a free100-page comprehensive manual, and handouts on a variety of legal and business issues related to managing property. Each class also includes professional guest speakers ranging from Court Commissioners and City Attorneys totowing companiesand pest control.
www.RentRacine.com
What is RentRacine.com
RentRacine.com is a web site designed to be the "go to place" to find a place to rent in Racine. It was designed and paid for by members of Southern Wisconsin Landlords Association (SWLA). With advertising of the site paid for by SWLA, it is a very cost effective alternative to other forms of advertising, such as newspapers.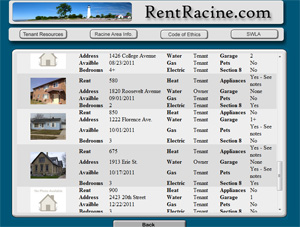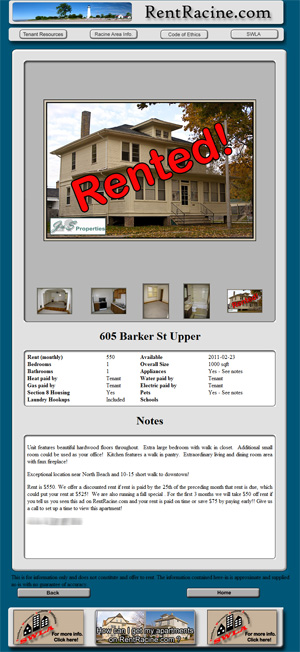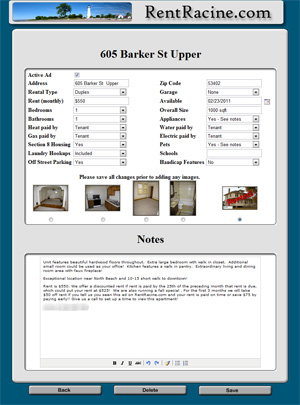 How to get my ads on RentRacine.com?
While RentRacine.com is for members only, SWLA is offering a FREE 3 month trial membership to SWLA and RentRacine.com. With the trial membership you will have the opportunity to list your properties on RentRacine.com as well as attend our monthly meetings for FREE.
At the monthly meeting you will see what we have to offer landlords. Information like reducing your risk of lawsuit and fines by learning about the ever changing laws and regulations, lawyer reviewed forms needed to manage your properties, credit reports services, training classes, vendor discounts, and a wealth of knowledge from our members.
With RentRacine.com you can list as many apartments as you like. The listings will always be there. Just turn them on when you need to advertise a place. Turn it off when there rented.
To sign up for the FREE trial membership, simply click on the Trial membership application button at the bottom of this page and fill out the form. We will get in touch with you to get your account set up for you and provide your account information to get you started.
If you're interested in saving money, meeting like minded people or staying informed regarding laws governing your business, then SWLA is for you !